This is one of the most important decisions you will ever make. As you start planning for a wedding, remember – joining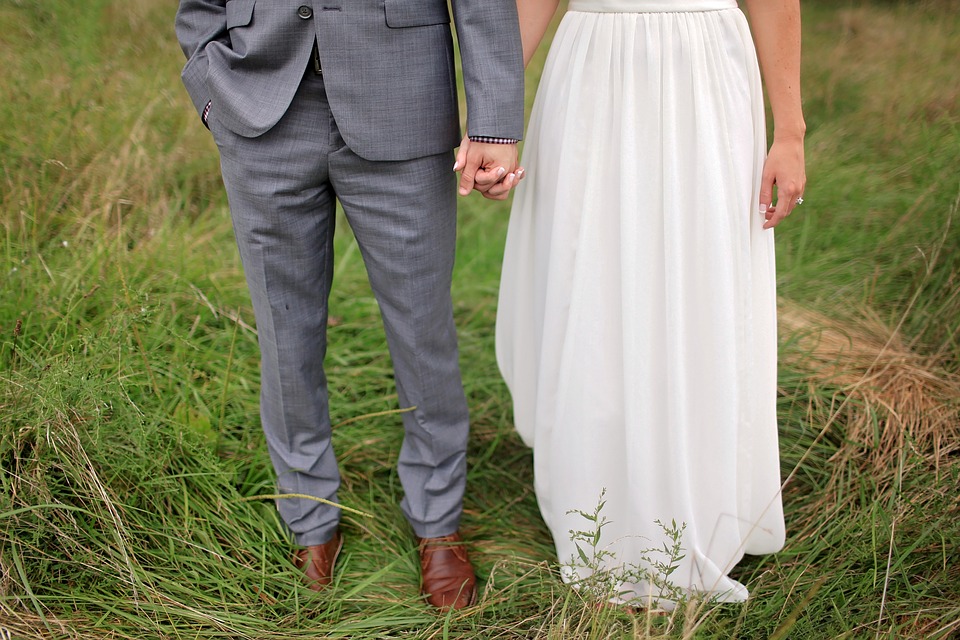 two individuals in a lifetime commitment is more than choosing the right photographer, and renting the proper facility. These details are important, but they are secondary to what is really happening. Once the day is over, your marriage continues, and a photo album will not be enough to sustain your relationship.
We, at the Long Green Valley Church of the Brethren, would like to help you prepare for marriage, not just a wedding. That's what this web page is about – to provide you with the information you need to grow your relationship with one another. Enclosed are details about counseling, planning the ceremony, and costs.
Why the Church?
        A first question you should ask yourselves is: why are we turning to the church for a wedding? Perhaps it is because your faith leads you in this direction, or because you think you "ought to" get married in a church. What are you seeking?
When you turn to the church, realize it is a group of people, not a building. We come together because we need each other, and because we need God. When times get rough, we are there for each other, to love and support. If you are not a part of a church, we encourage you to become involved here or in another Christian fellowship. Marriage is a lifetime process, and you need all the support you can get.
Counseling
        Our pastor, Pete Haynes, is a trained counselor. If you would like him to perform the ceremony, you will need to meet with him for at least three sessions beforehand. If you choose another minister to perform the ceremony, Pastor Pete is still available for premarital counseling. Call it preventive medicine. Please spend as much attention on your relationship as you would your own body, or even your automobile.
What to expect: Your first session will be a time for you and Pastor Pete to get acquainted. Then, you will individually fill out a premarital personality and relationship evaluation. These will be mailed to PREPARE/ENRICH, a Minneapolis based organization that will tabulate and send back to Pastor Pete a profile of your relationship.
Since 1977 PREPARE/ENRICH has helped over 1,000,000 couples, and is a highly recommended resource. It is not a test whether or not you should marry. It is a tool to lift up your strengths, as well as your growth areas. In addition, you will be asked to fill out a brief questionnaire, based on the Meyers-Briggs personality inventory – again a tool, not a test.
Your next two sessions will focus on both strengths and growth areas, and offer some handles for dealing with conflict (an expected part of any relationship). All these sessions will last about one and a half hours each. Unless more are needed, a fourth counseling session will be for planning the ceremony itself, if Pastor Pete is involved.
Planning the Ceremony
        Our church has pulled together a "Wedding Notebook," which will be entrusted in your hands while YOU plan. It describes what happens in the ceremony itself, and suggests a variety of options. There is no "one" way of doing a wedding. Of course, you can choose a traditional service, but recognize that what we consider "traditional" today was not so one hundred years ago. In this congregation, fifty years ago, couples were married in a small, brief service at home. Traditions change.
At the back of the notebook are some alternatives you might wish to explore. The intent of this notebook is to help you focus on what is really happening on your wedding day. It's so easy to get lost in all the other details (you're supporting a whole "wedding" industry which depends on those details) that we miss what the Bible calls the "great mystery" of "two becoming one flesh" (Ephesians 5:31-32).
Costs
        For those who are members of this congregation (at least one of you), counseling and the use of our facility are free of charge. You will, however, need to make out a $35 check to PREPARE/ENRICH to be sent with your premarital evaluations to cover processing. If one of our church organists accompanies your wedding, share your thanks personally with a monetary gift of  $100 (or more).  Consider something similar for the Pastor.
For non-members, there are expenses we need to pass on to you. Besides the $35 PREPARE/ENRICH fee, there is a $100 additional charge for counseling. If this is an economic hardship, we can work something out. There are also fees for the use of our facility with or without Pastor Pete's involvement. Contact us for more detailed information.
Our intention is not to make money off our facility, but to cover our expenses. Though members are not charged for facility use, they may wish to make an extra donation to the church. An agreement form will be provided for you to fill out and sign, whether or not you are a member. You will also receive a list of guidelines.
One more thing – do remember to pick up your Baltimore county wedding license at least 48 hours ahead of time. It's good for 6 months. Click here for more details.
Enjoy
        May God bless this important decision you have made, and travel with you through your preparation, your official union, and through the days and years that lie ahead. May they be filled with Joy!